Chimamanda Ngozi Adichie awarded an honorary degree from CAS
Ms Adichie received an Honorary Degree of Doctor of Letters in recognition of her achievements as an author and public intellectual.
Dividing her time between Nigeria and the USA, Chimamanda Ngozi Adichie has become one of the world's most internationally-respected authors. After three acclaimed novels including Half of a Yellow Sun and Americanah, her most recent title, Dear Ijeawale takes the form of a series of letters to a friend about feminism and motherhood.
She received the Honorary Degree of Doctor of Letters at the University's recently redeveloped St Cecilia's Hall – Scotland's oldest concert hall.
The award was presented to her by the University's Principal and Vice Chancellor, Professor Sir Timothy O'Shea.
Receiving the honorary degree in recognition of her achievements as an author and public intellectual, she said:
It is lovely to be in this place, which is hallowed. I feel very fortunate to be included among the people who have been honoured with a degree from this University.
Dr. Barbara Bompani, Edinburgh University's Director of the Centre for African Studies, who proposed Adichie for the award said:
Through her writing, her advocacy, and her public engagement, she inspires all of us to better understand our own, and other peoples' stories.
During her visit the author met a group of students from the MasterCard Foundation Scholars Program which supports the brightest and best African scholars, ensuring access to education for young leaders who have a personal commitment to changing the world around them and improving the lives of others. Members of the Program can be seen below with Ms Adichie alongside CAS staff.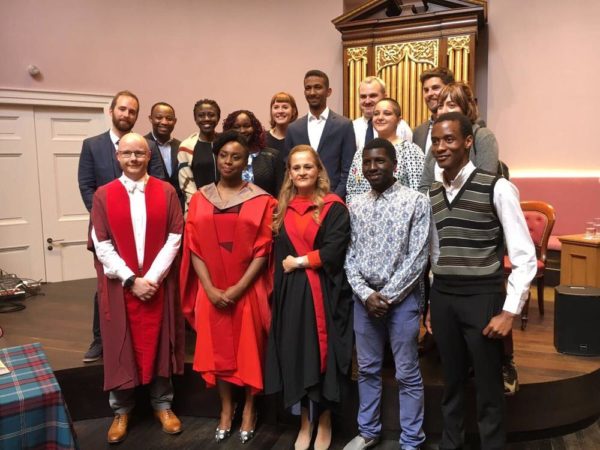 Following the ceremony, Chimamanda Ngozi Adichie and Nicola Sturgeon took to the stage at the Book Festival to discuss equality in the 21st century – a conversation that ranged from literature to race to their self-identification as 'unconventional women'.
In their discussion of gender equality, the Nigerian novelist said that, for her, feminism is not about theory but practice and action. "I'm a feminist because I watch the world. Being a feminist isn't about having a theory, it's about changing the world." She went on to say that one of the most important aims for feminists should be to remodel masculinity: "we should praise men who show vulnerability, who are in touch with their emotions – if masculinity could be redefined in that way, maybe some of the things happening in the world wouldn't be happening anymore."